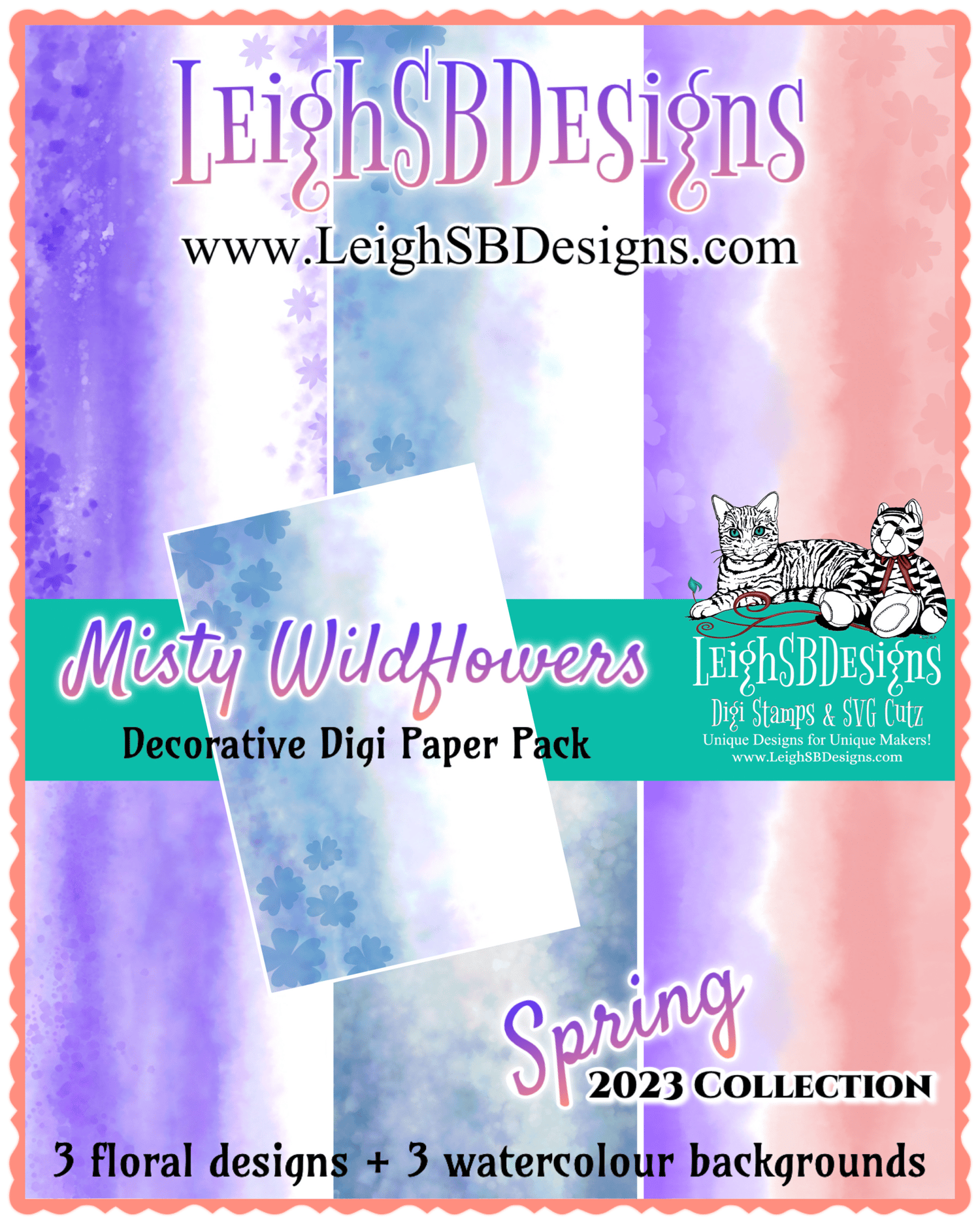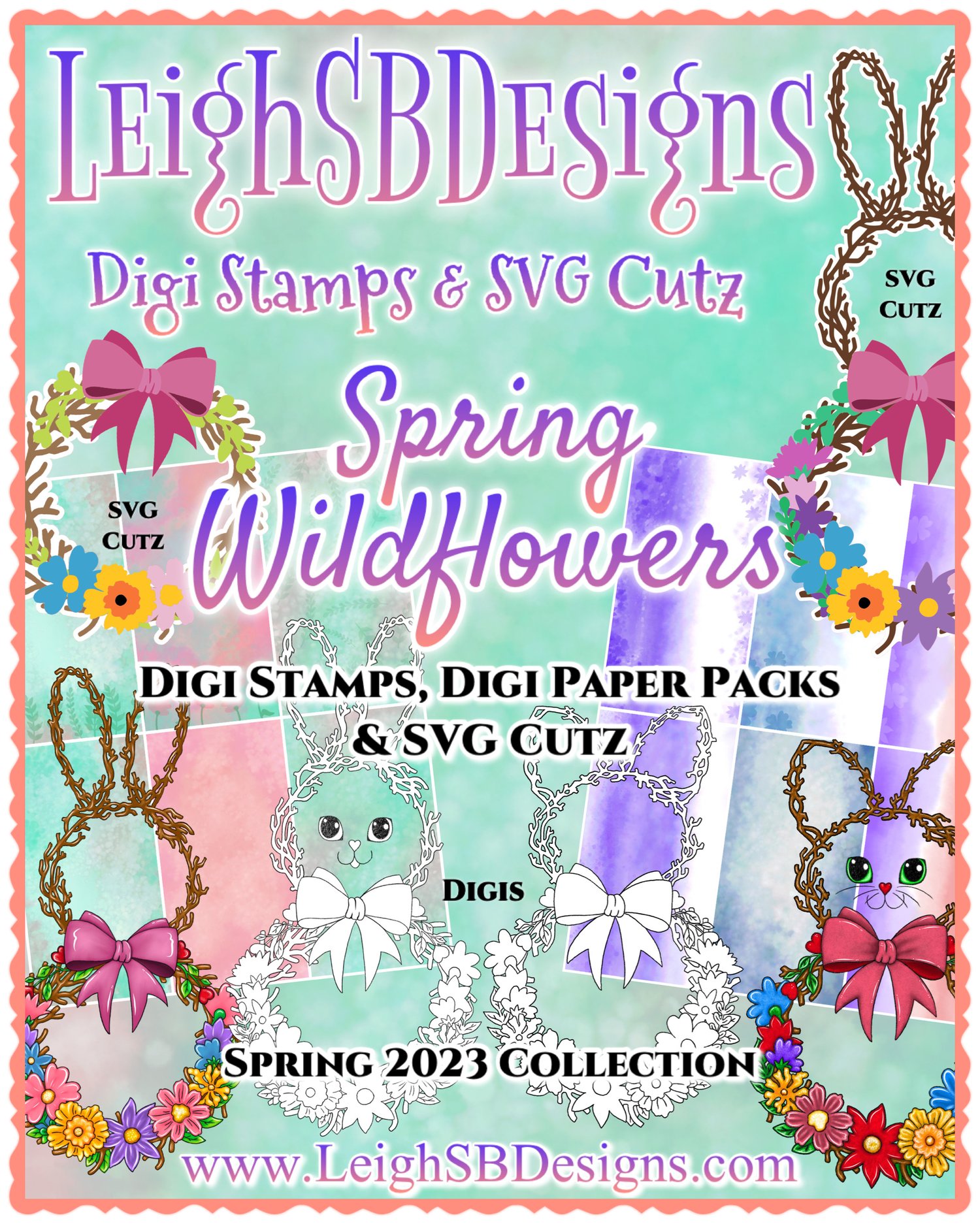 Misty Wildflowers Decorative Digi Paper Pack - Spring 2023 Collection of Digi Stamps and SVG Cutz by LeighSBDesigns
🌸 Misty Wildflowers Decorative Digi Paper Pack - 3 floral designs + 3 watercolour backgrounds
🌸 Spring 2023 Collection by LeighSBDesigns 
🌸 Original art drawn by Leigh Snaith-Brunton
🌸 Imagine the fresh spring fragrance of wildflowers on a dreamy nature stroll then bring the experience home with you to create with whimsical bunny and kitty shaped wreath digi stamps and design incredible 3D twig wreaths in various styles and sizes that you can customize with a bouquet of pretty wildflowers and a variety of floral greenery in any colour and style you want!
🌸 LeighSBDesigns Spring Wildflowers Collection of Digi Stamps, Decorative Digi Paper Packs and SVG Cutz evokes visions of wildflowers on misty mornings and warm pastel afternoons and brings the joy of nature to life on all your Spring and Easter home decor decorations, cards and more! You will also enjoy floral crafting all year round too!
🌸 You will see the Spring Wildflowers collection in action on LeighSBDesigns Inspiration Blog where we have lots of wonderful inspirational creativities for all to enjoy from fun monthly Challenges to annual Blog Hops! Come share all your wonderful makes with us using this incredible collection! 
🌸 See the entire collection in the release video: 
https://tinyurl.com/SpringWildflowersCollection
🌸 See the entire collection in the release blog post:
https://leighsbdesigns.blogspot.com/2023/03/new-release-spring-2023-collection-part.html
🌸 ABOUT THIS LISTING
The Misty Wildflowers Decorative Digi Paper Pack is a set of 6 designs with beautiful vibrant pastel hues that evokes visions of wildflowers on misty spring mornings. 3 of the decorative papers have floral designs and 3 are matching watercolour designs in shades of peach, purple and blue.
Use the designs for digital art backgrounds or print my digi stamps on them and use them as main focal points and backgrounds. They're also perfect for cutting out wildflowers and more for your electronic and metal die cutting needs too! This decorative digi paper pack is provided in png and jpg files as an instant downloadable zip file in 300+ resolution without watermarks.
Please note that monitors and printers can handle colours differently.
Please note examples in photos are for inspiration only and are not included!
Share what you create with me by playing along in our fun monthly Challenges and annual Blog Hops at LeighSBDesigns Inspiration Blog and tag LeighSBDesigns on your favorite social media sites with @LeighSBDesigns and #LeighSBDesigns!
Visit LeighSBDesigns Inspiration Blog and website for lots of inspiration, new release news, flash sales and more:
https://LeighSBDesigns.blogspot.com
https://www.LeighSBDesigns.com
The $3.50 limited license fee allows you to use and save this image for your personal use only. Please do not re-sell or distributed my uncoloured designs in any form - digitally or printed out. A copy of LeighSBDesigns Terms of Use and Angel Policy is included in the download for you to read for further details.
Due to the nature of instant downloadable digital stamps I do not accept returns, exchanges or cancellations. 
Please feel free to contact me with any questions or issues.
Happy Creating!
Leigh S-B
https://www.LeighSBDesigns.com