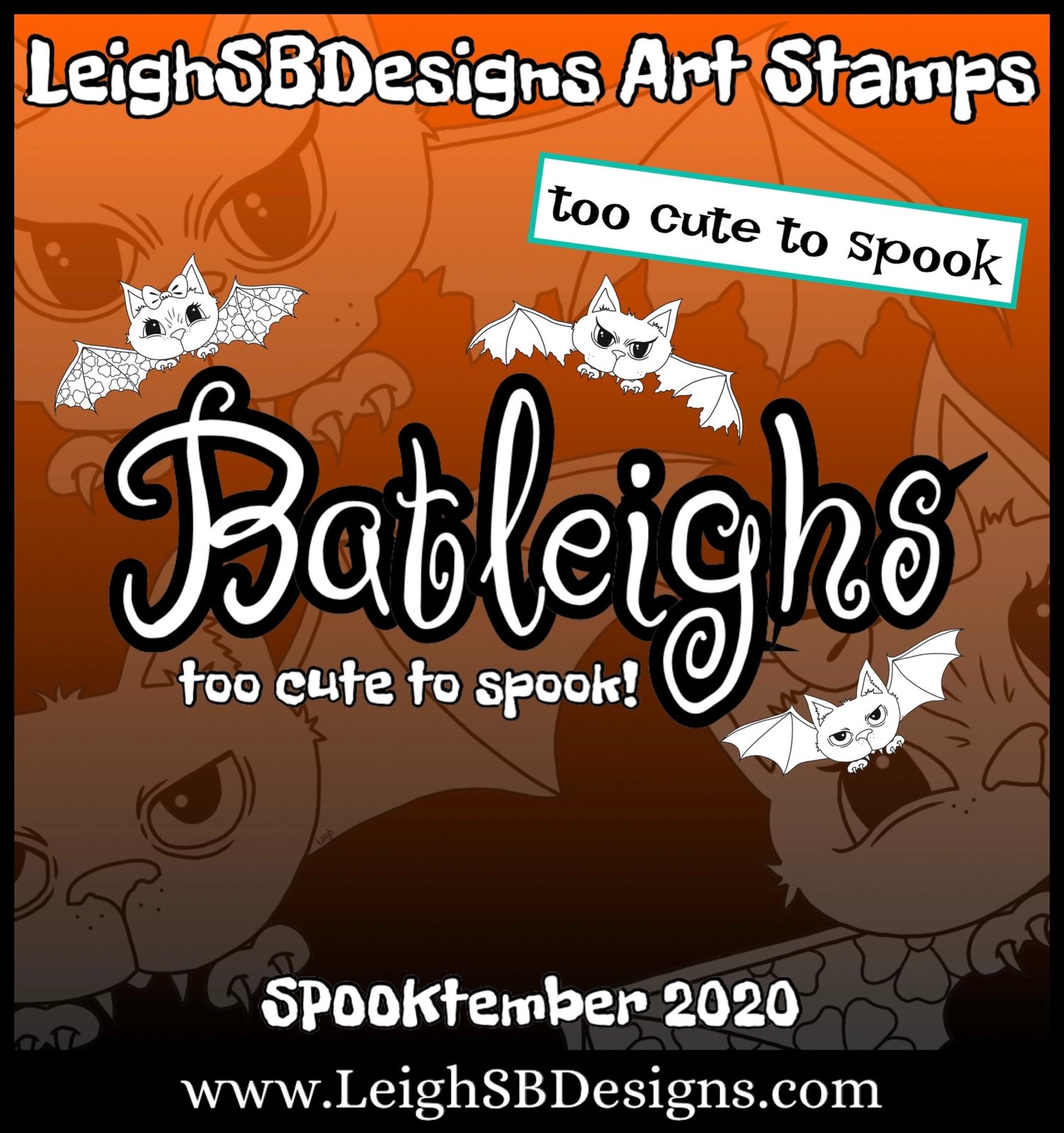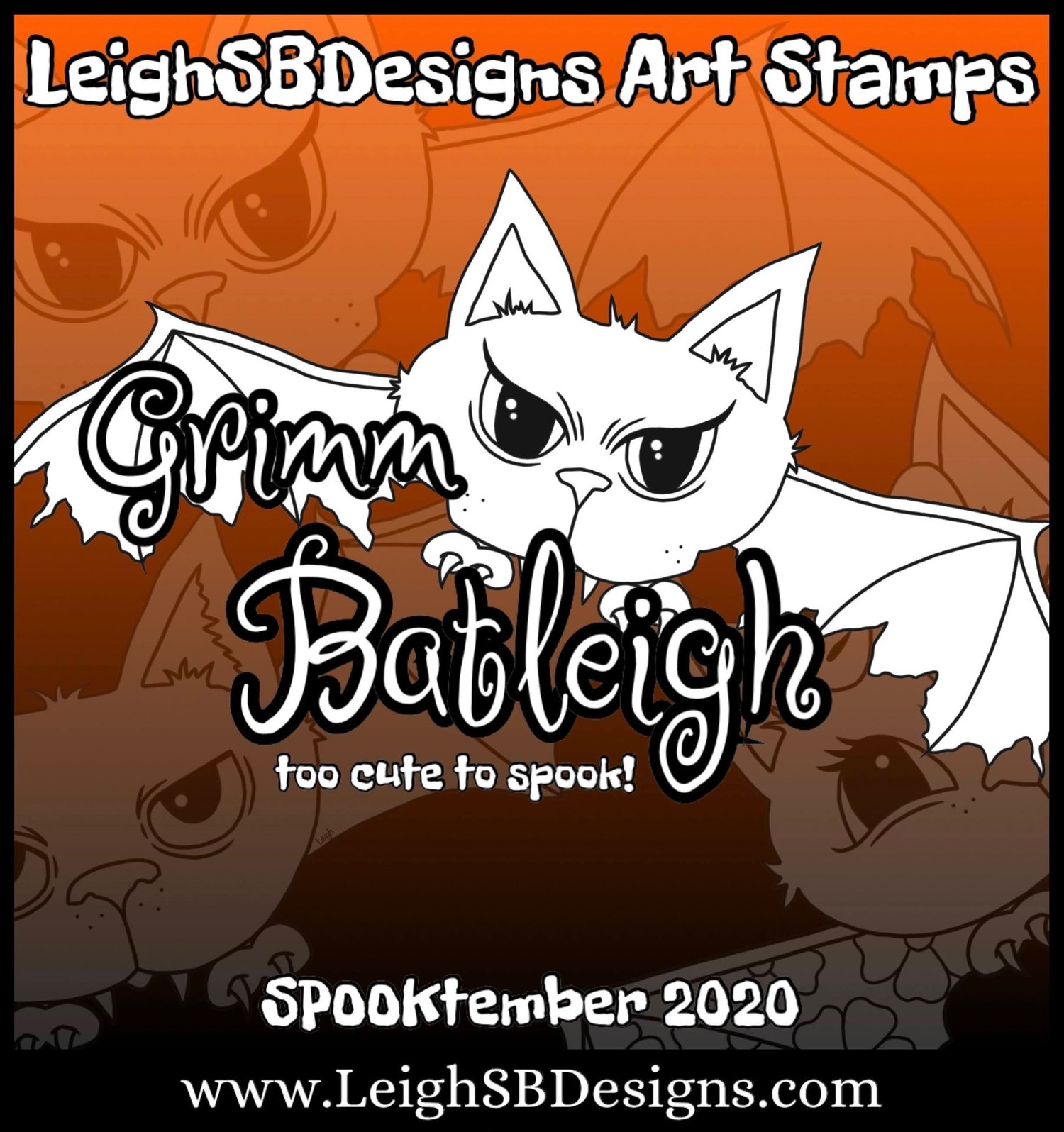 Batleigh Bats - set of 3 Bats & 1 Senti Digi Stamps - Batleigh Bats Collection by LeighSBDesigns
Batleigh Bats Collection
SPOOKtember 2020 Halloween Release
Original art drawn by Leigh Snaith-Brunton
Check out the release at LeighSBDesigns Inspiration Blog
See the entire Batleigh Bats Collection
The Batleigh Bats are adorable, quirky, creepy cute and totally too cute to spook!
They're waiting to fly onto your Halloween makes every and bring delight to everyone who sees them! You'll fall in love with these cuties and will want them all for your creepy cute Halloween makes for any age, scene building or featured on their own, either way you'll have so much fun creating with this trio of Halloween critters!
Be sure to also check out the Sleeping Batleigh Bats too!
(will be up in the store soon)
Batleigh Bats - 3 Bats & 1 Senti Digi Stamp Set
Grimm Batleigh, he's a tad grumpy with creepy cute tattered wings.
Bram Batleigh is trying to be less scary than Grimm and his wings just scream for you to decorate with your own doodles.
Betsi Batleigh is the cutie of the trio and definitely way too cute to spook! She's super adorable with her flower patterned bat wings and a sweet bow sits pretty between her batty ears!
The sentiment "Too Cute to Spook" is included in this fun quirky cute set!
You get
Grimm Batleigh - 2 files: 1 jpg and 1 png file with a transparent background
Bram Batleigh - 2 files: 1 jpg and 1 png file with a transparent background
Betsi Batleigh - 2 files: 1 jpg and 1 png file with a transparent background
"Too Cute to Spook" sentiment - 1 png file with a transparent background
Instant downloadable zip file in 300+ resolution without watermarks, ready for you to resize as desired, print and colour with your favorite mediums! Create cards, ATCs, journal pages and more.
Please note coloured photo examples are for inspiration only and not included!
See this wonderful digi stamp set in action at LeighSBDesigns Inspiration Blog!
The $4.00 limited license fee allows you to use and save this digi stamp for your personal use only.
A copy of LeighSBDesigns Angel Policy and Terms of Use is included in the download for you to read.
Due to the nature of instant downloadable digital files I do not accept returns, exchanges or cancellations. 
Contact me if you have any questions.
I'd love to see what you create! 
Please share with me on your favorite social media sites and play at LeighSBDesigns Inspiration Blog in my monthly Challenges and annual Blog Hops!
Tag @LeighSBDesigns and use hashtag #LeighSBDesigns on social media!
Happy Creating
Leigh S-B