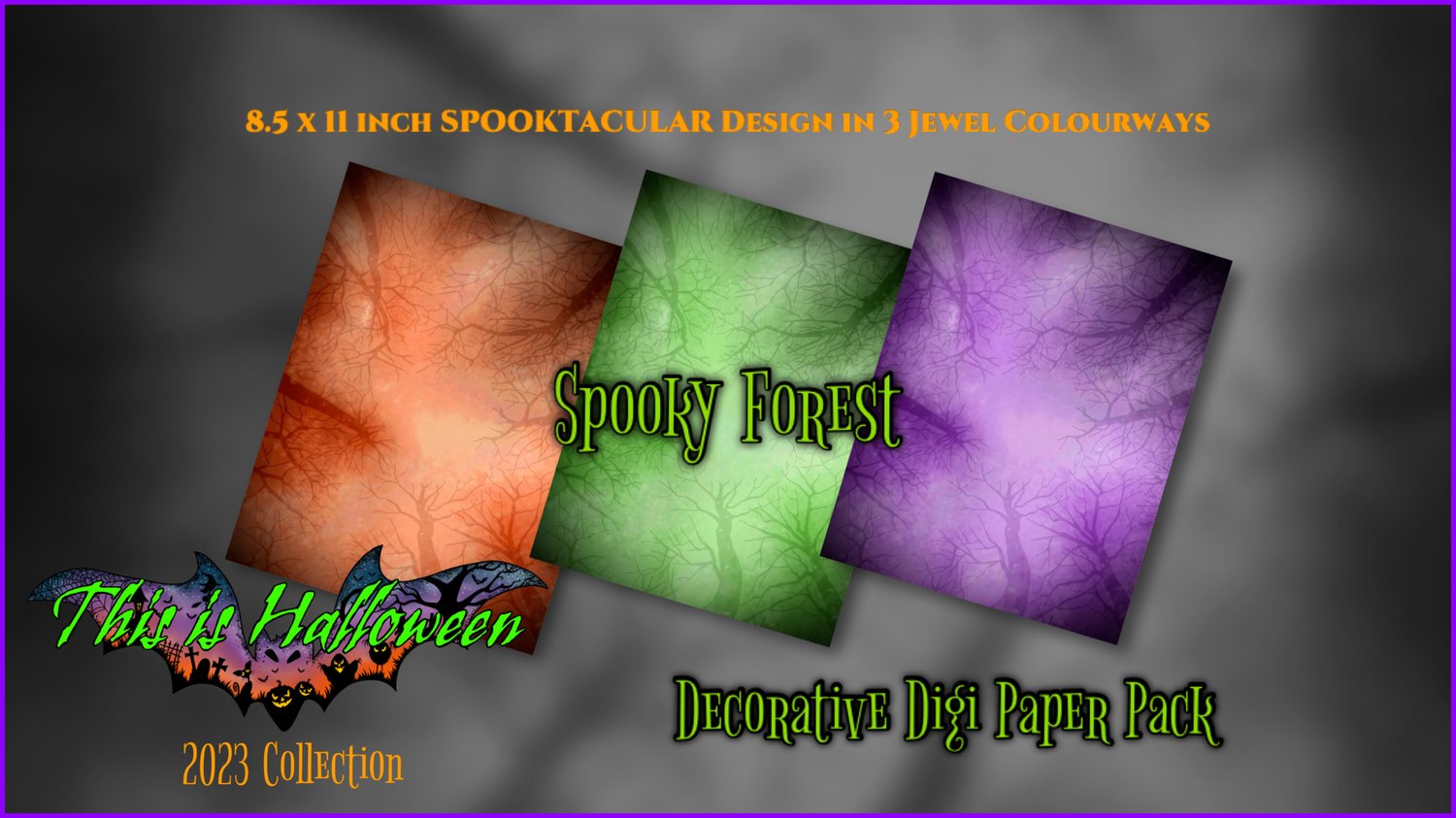 Spooky Forest Decorative Digi Paper Pack - THIS IS HALLOWEEN 2023 Collection by LeighSBDesigns
THIS IS HALLOWEEN
Digi Stamps, Decorative Digi Papers & SVG Cutz Collection
SPOOKtember 2023 Release by LeighSBDesigns
Original art by Leigh Snaith-Brunton
My fun line of THIS IS HALLOWEEN Decorative Digi Papers features spellbinding traditional Halloween colours and themes including a "31 Days of Halloween" specific set as well as a creeptastic moody forest colourscape set too - all perfect for your cute to creepy makes this Halloween!
See the other packs in the collection!
Check out the release LeighSBDesigns Inspiration Blog
See the entire THIS IS HALLOWEEN 2023 Collection
Spooky Forest - Decorative Digi Paper Pack
This faBOOlous decorative digi paper pack includes 1 distressed spooky design of towering bare trees in 3 traditional Halloween colourways sized at 8.5" x 11".
This decorative digi paper pack of jpg files is provided in 1 instant downloadable zip files in 300+ resolution without watermarks, ready for you to resize as desired, print and cut with your dies and electronic cutting machines!
Create cards, ATCs, journal pages and more. 
You will see this SPOOKtacular decorative digi paper pack in action during LeighSBDesigns annual 31 Days of Halloween Blog Hop from Oct 1 - 31st, do come and join the SPOOKtivities!
Please note photo examples are for inspiration only and not included!
The $2.25 limited license fee allows you to use and save this set for your personal use only.
A copy of LeighSBDesigns Angel Policy and Terms of Use is included in the download for you to read.
Due to the nature of instant downloadable digital files I do not accept returns, exchanges or cancellations. 
Contact me if you have any questions.
I'd love to see what you create! 
Please share with me on your favorite social media sites and play at LeighSBDesigns Inspiration Blog in my monthly Challenges and annual Blog Hops!
Tag @LeighSBDesigns and use hashtag #LeighSBDesigns on social media!
Happy Creating
Leigh S-B