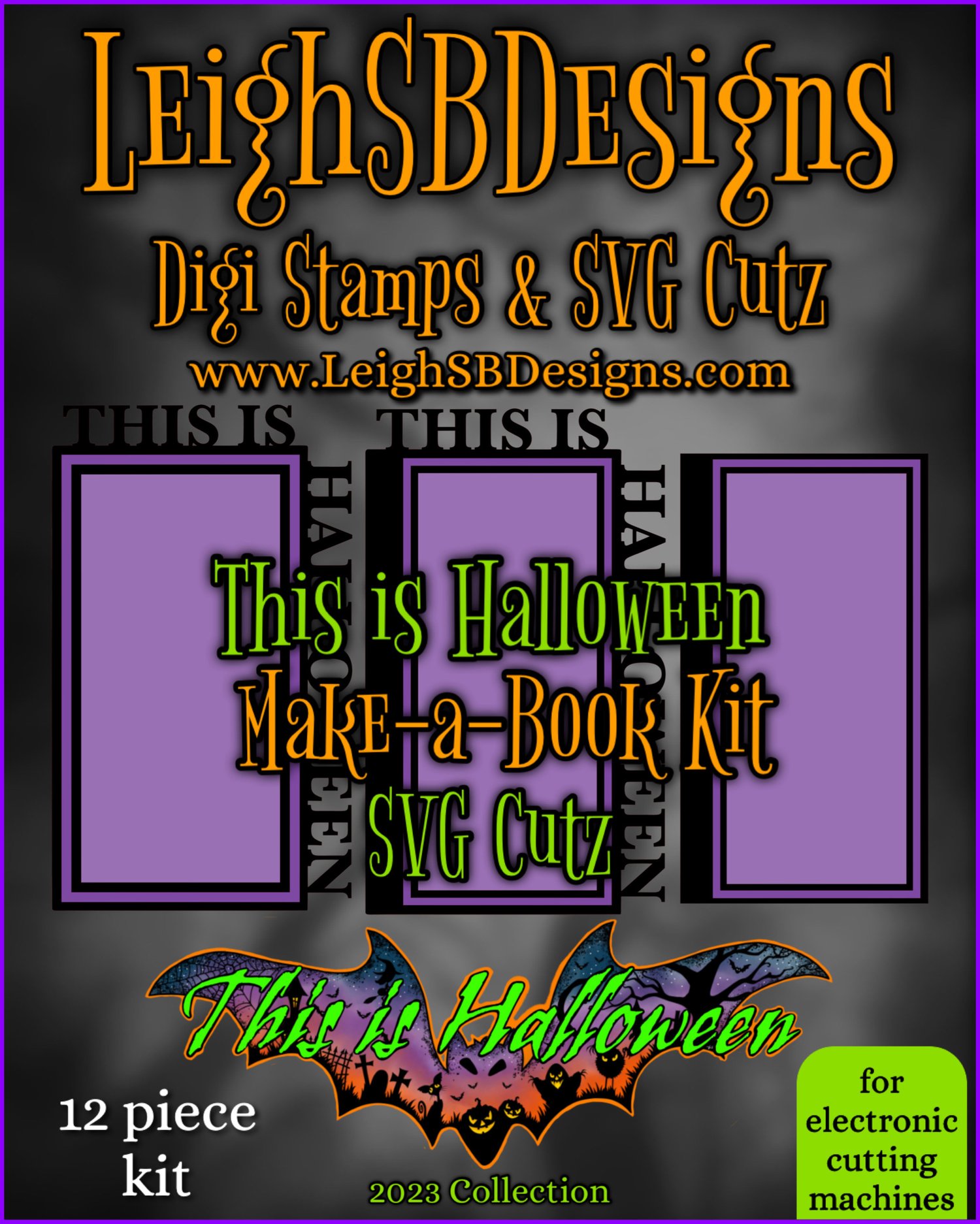 This is Halloween Make-a-Book SVG Cutz - CUT FILE ONLY - THIS IS HALLOWEEN 2023 Collection by LeighSBDesigns
THIS IS HALLOWEEN
Digi Stamps, Decorative Digi Papers & SVG Cutz Collection
SPOOKtember 2023 Release by LeighSBDesigns
Original art by Leigh Snaith-Brunton
Check out the release at LeighSBDesigns Inspiration Blog
See the entire THIS IS HALLOWEEN 2023 Collection
Welcome to LeighSBDesigns line of cut file designs called FUNdamental Foundations!
LeighSBDesigns SVG Cutz are designed for use with all popular electronic cutting machines that support the import of SVG files and also include Silhouette Studio file formats specifically for all Silhouette users to enjoy!
THIS IS HALLOWEEN Make-a-Book SVG Cutz
This SPOOKtacular book kit is perfect for making Halloween and "31 Days of Halloween" themed books from start to finish! The Book Cover includes the text THIS IS HALLOWEEN as a faBOOlous cut out element along the top edge and right hand side and includes matching mats and layers to allow you to use a bookbinding spine of your choice. 
PRO TIP
Make any size book you want by selecting and adjusting all the cut elements together to ensure the pieces resize equally! Experiment with smaller sizing to ensure the THIS IS HALLOWEEN letters cut out cleanly!
#1 THIS IS HALLOWEEN text Book Cover has 3 mats and layers that fill the entire cover for use with your favourite bookbinding and spine making techniques.
#2 THIS IS HALLOWEEN text Book Cover is identical to #1 but the 3 mats and layers are designed to leave a wide left hand side border on the Cover base for use with your favourite punches and disc binding systems.
Page set - Page base with mats and layers designed to leave the wide left hand side border open for whatever spine you plan to use.
Fill your THIS IS HALLOWEEN book with as many pages as you want and decorate it with this year's SPOOKtacular Halloween release and more and cut the mats and layers from my Halloween themed collection of decorative digi papers
12 Piece Set includes:
2 identical THIS IS HALLOWEEN text Book Covers
#1 - 3 full cover mats and layers
#2 - 3 mats and layers sized to leave a left side border open
1 Page base
3 Page mats and layers
SVG and Studio 3 file formats
For use with US Letter/A4 and 12" x 12" cutting mats
You will see this SPOOKtacular SVG Cutz in action during LeighSBDesigns annual 31 Days of Halloween Blog Hop from Oct 1 - 31st, do come and join the SPOOKtivities!
This SVG Cutz set comes in SVG and Silhouette Studio 3 file formats in an instant downloadable zip file designed to fit both US Letter/A4 and 12" x 12" cutting mats and is ready for you to cut with your electronic cutting machine using your favorite cardstocks and colouring mediums! The SVG Cutz are provided as separate elements for you to cut out as well as an "assembled" version grouped together as an example of how the finished design should look. The coloured elements are not meant to be printed out prior to cutting unless it's a Print and Cut file!
Please note coloured photo examples are for inspiration only and not included!
The $5.50 limited license fee allows you to use and save this SVG Cutz for your personal use only.
A copy of LeighSBDesigns Angel Policy and Terms of Use is included in the download for you to read.
Due to the nature of instant downloadable digital files I do not accept returns, exchanges or cancellations. 
Contact me if you have any questions.
I'd love to see what you create! 
Please share with me on your favorite social media sites and play at LeighSBDesigns Inspiration Blog in my monthly Challenges and annual Blog Hops!
Tag @LeighSBDesigns and use hashtag #LeighSBDesigns on social media!
Happy Creating
Leigh S-B