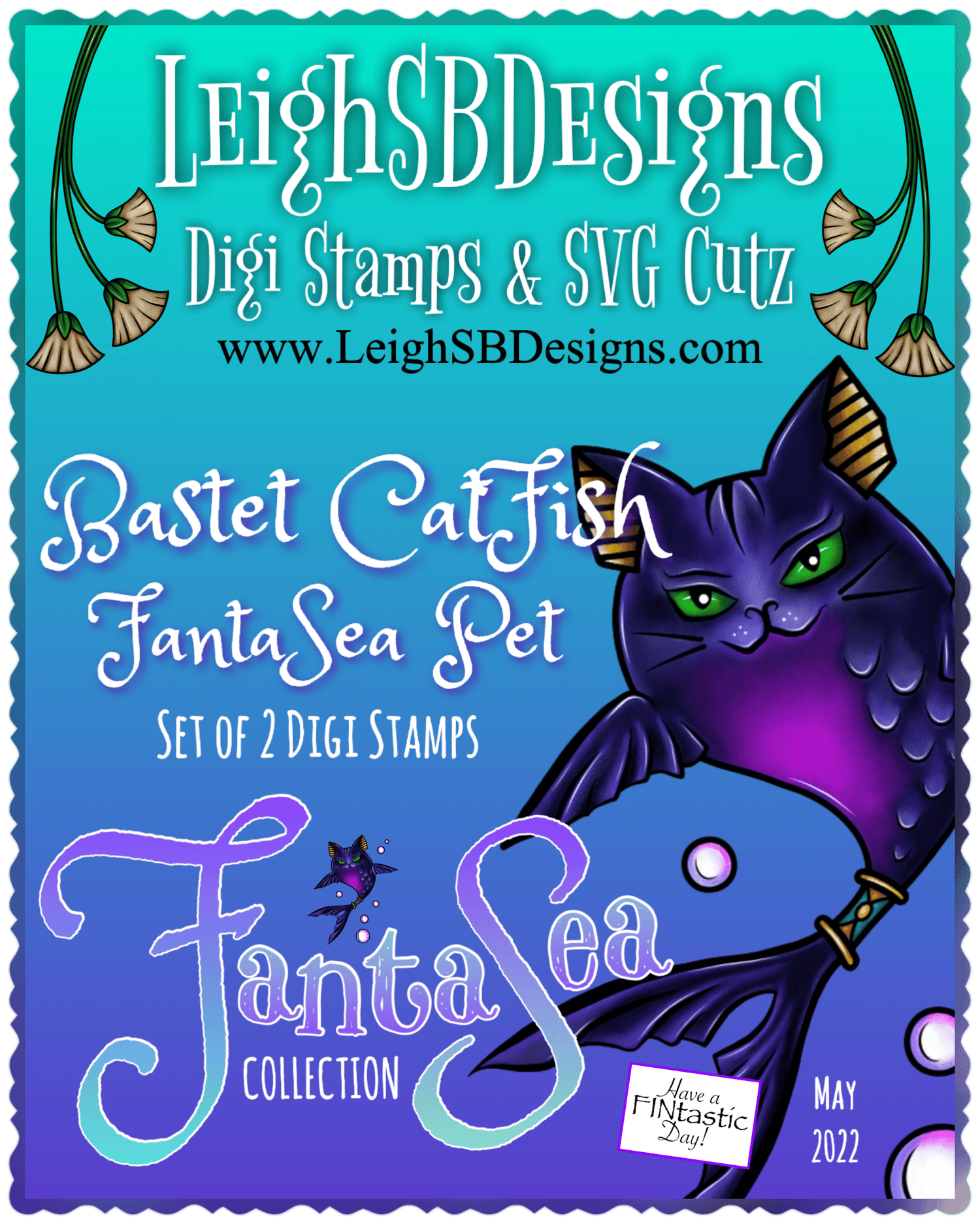 Bastet CatFish FantaSea Pet + Senti Set - FantaSea Digi Stamp & SVG Cutz MerMay 2022 Collection by LeighSBDesigns
The FantaSea Collection
Digi Stamp & SVG Cutz
MerMay 2022 release by LeighSBDesigns
Original art drawn by Leigh Snaith-Brunton
Check out the release at LeighSBDesigns Inspiration Blog
See the entire FantaSea Collection
Quirky cute reigns in LeighSBDesigns' FantaSea Collection released for MerMay 2022! Explore the ancient realms of Egypt, Rome and Greece deep beneath the sea with the 10 FINtastic FantaSea digi stamp sets and 4 mermazing FantaSea SVG Cutz sets for making wonderful mermaid themed letter page circle books and start to finish slimline cards for an ah-MAY-zing creative MerMay and beyond🧜🏻‍♀️
You will have a splash creating sea scenes with the majestic Cleopatra the Egyptian Oddleigh mermaid and her precious Bastet and Anubis FantaSea pets combined with the set of Egyptian Florals & Column plus the FantaSeaScape pearl covered seabed. Then swim over to the realm of the Greco-Roman Balleigh MerMonsters and create with the regal Poseidon and Pearl Greek MerMonsters and their Roman mirror counterpart characters Neptune and Coral and their little pet called Shrimpie! Each set comes with perfectly themed senties plus Mother's Day and Birthday themed sentiments as well as an additional set of FantaSea MerMazing Senties too so the digi sets combined with the wonderful FantaSea SVG Cutz kits and all my other previously released mermaid themed sets will have you happily creating sea scenes for years to come🧜🏻‍♀️
Bastet Catfish FantaSea Pet - Digi Stamp Set
Bastet the CatFish is one of Cleopatra Oddleigh Mermaid's FantaSea pets! Bastet is the cutest quirky kitty fish you've ever seen from her PURRtastic Egyptian cat ears down to her FINtastic tail adorned with a golden bracelet. Just look at those mischievous eyes, you can tell she's seen many wondrous things while out on her prowls and knows full well humans worship her and indulge her every whim! Bastet comes with a FINtastic senti that's PURRfect for any occasion! You'll also want to check out her friend, Anubis the DogFish too! Pair her up with the other ah-MAY-zing designs in the FantaSea Collection for lots of fun scene building and more!
You get
Bastet CatFish FantaSea Pet: 1 jpg and 1 png file with a transparent background
"Have a FINTASTIC day" senti - png file with a transparent background
as an instant downloadable zip file in 300+ resolution without watermarks, ready for you to resize as desired, print and colour with your favorite mediums! Create cards, ATCs, journal pages and more.
Please note coloured photo examples are for inspiration only and not included!
See the fabulous FantaSea Collection in action at LeighSBDesigns Inspiration Blog and join in on our monthly challenges and annual blog hops!
The $3.50 limited license fee allows you to use and save this digi stamp for your personal use only.
A copy of LeighSBDesigns Angel Policy and Terms of Use is included in the download for you to read.
Due to the nature of instant downloadable digital files I do not accept returns, exchanges or cancellations. 
Contact me if you have any questions.
I'd love to see what you create! 
Please share with me on your favorite social media sites and play at LeighSBDesigns Inspiration Blog in my monthly Challenges and annual Blog Hops!
Tag @LeighSBDesigns and use hashtag #LeighSBDesigns on social media!
Happy Creating
Leigh S-B